Our Dry Glove Boxes
Standard Dry Glove Box:
$4,205.00 USD, FOB *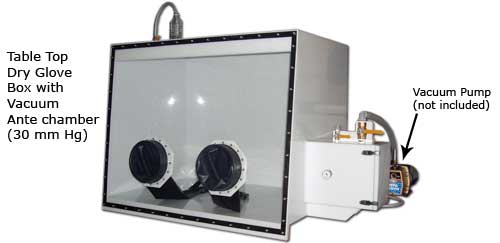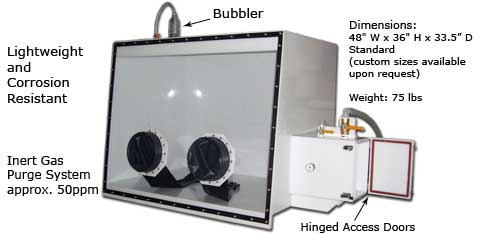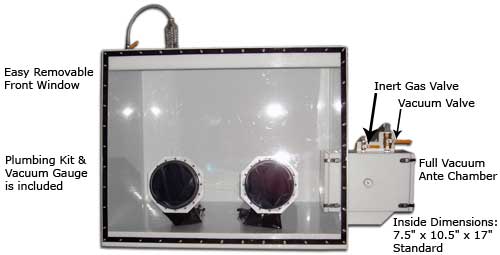 Table Top Dry Glove Box with Vacuum Antechamber (30 mm Hg)
Glove Box Dimensions: 48" Width x 36" Height x 33.5" Depth
(custom sizes available upon request)

Full Vacuum Ante Chamber
Dimensions: 7.5" x 10.5" x 17"
Inside Dimensions Std.

Easy Removable Front Window
Plumbing Kit & Vacuum Gauge Included
Hinged Access Doors
Lightweight and Corrision Resistant
Inert Gas Purge System approx. 50ppm
Bubbler
Vacuum Pump (not included)
Large Dry Glove Box:
Size:
Box only : 96"W x 36"H x 33.5"D

with one Large Antechamber : 116"W ($11,100.00 USD, FOB *)
with two Large Antechambers : 136"W ($12,900.00 USD, FOB *)
Each Large Antechamber's inside dimensions : 10"W x 20"H x 21.5"D

with one Small Antechamber : 111"W ($9,410.00 USD, FOB *)
with two Small Antechambers :126"W ($10,130.00 USD, FOB *)
Each Small Antechamber inside dimensions : 7"W x 10"H x 17"D
The Double Glove Boxes can be also made modular from two 48"W pieces and /or with removable Antechambers for easier shipping, to be assembled by customer. All Glove Boxes include inert gas and vacuum pumps plumbing. Accessories are extra, as described in this information sheet.
Contact Us to inquire about latest prices, (* Prices may change without notice)